To celebrate the publication of The Midnight Peacock, the last in her popular The Sinclair's Mysteries series, author Katherine Woodfine has written a special feature on her creative process.
While I was writing The Sinclair's Mysteries – a series set in a glamorous new department store in Edwardian London – looking at lots of visual images was a very important part of my research process.
I've written before about how I've used images to help me imagine what Sinclair's, and the wider world of Edwardian London, might look like – and it's often something I talk about when I go into schools and meet readers. For me, visual material is a really important starting point for my writing.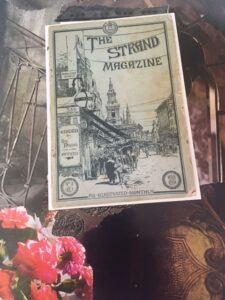 In particular, I've used Pinterest to collect together images online – from 1900s maps, newspapers and advertisements, to old photographs, illustrations, paintings, and of course lots of pictures of Edwardian fashion. Most of the images were from the 1900s, but I also gathered more contemporary images that had an Edwardian feel or which suggested elements of the series to me. You can see my Edwardiana Pinterest board here, as well as the individual boards I made for each book: The Clockwork Sparrow, The Jewelled Moth, The Painted Dragon and The Midnight Peacock.
But as well as using digital images to help me in my research, I also wanted to gather together visual material I could look at offline, away from the screen of my computer or mobile phone. I soon found myself gathering together all kinds of images that reminded me of the books – from wrapping paper that looked as though it could have been used to wrap up a box of Sinclair's chocolates and photocopied photographs of 1900s street scenes, to old-fashioned 'scraps' and fashion spreads ripped out of magazines that evoked sumptuous Edwardian elegance.
But what to do with all these lovely bits and pieces? For a while, I was mostly just shoving them into a folder, or sometimes sticking up a key image above my desk, but then I had the idea to create a Sinclair's Mysteries scrapbook to help me during the writing process.
I've always been very drawn to artists' sketchbooks, visual diaries, scrapbooks and ideas books. When I was little I was always filling up little notebooks with drawings, stories, my own fashion designs, stickers, doodles and scribbles. And I've always liked collage, which can be a great way to play around and express ideas visually – especially for those who, like me, have pretty basic drawing skills!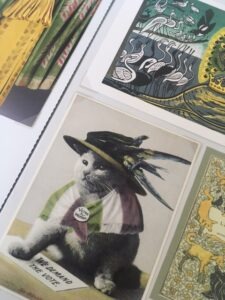 One of the best things about making a scrapbook is that you don't need to be able to draw, and you don't need any fancy materials either. All you need are some images to play with, plus some scissors and glue. Some double-sided tape or photo-corners might also be handy if you're sticking in heavier things, like postcards. You don't even need a proper scrapbook – I used a very ordinary A4 sketchbook with plain white pages to make my Sinclair's Mysteries book.
What's more, scrapbooks are incredibly versatile. You could make a big one like I did – or you could make a tiny one in a miniature notebook. You can stick in images, but you can also write, paint, doodle and draw. In my Sinclair's Mysteries scrapbook, I had fun messing around with some new brush pens, and I'd sometimes do little drawings if I wanted to work out how something might look – for example, the hand-drawn map that appears in The Midnight Peacock.
Even better, a scrapbook doesn't have to be perfect or take up a lot of time – in fact that's part of the point! Scrapbooks and sketchbooks are places to play and experiment. Sometimes I'd just quickly stick in a few postcards that I'd found in a museum shop, other times I'd enjoy taking my time and creating an elaborate collaged image, arranging things together based on their colours, textures or thematic links.
One page might conjure up the kind of afternoon tea that shoppers would enjoy in the Ladies' Lounge; another a collection of sparkling bugs and butterflies that could have flown straight out of the pages of The Jewelled Moth. Whilst some of the pages were neat, others were messy (in fact some of the pages even fell out and I had to stick them back in with sellotape!) Making it was all about having fun – a way to recharge the creative batteries when I felt short of ideas during the writing process.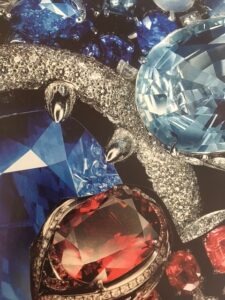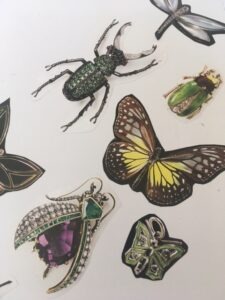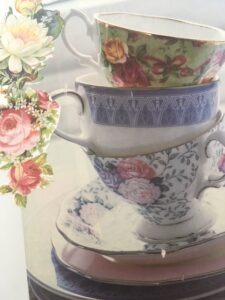 I'd definitely recommend this technique as a way to help build up the world of a story. For me it helped me to immerse myself in the environment of Sinclair's – but there are all kinds of ways that a scrapbook, sketchbook or visual ideas book could help act as a starting point for writing. We hear lots about the importance of writers keeping notebooks and diaries – but why not include visual materials too?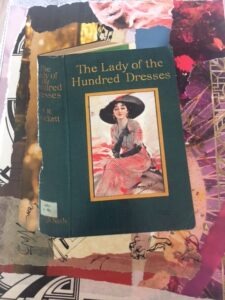 Keep your eyes open for any images that inspire you and stick them in your notebook, and see where they lead you. Try a doodle or a sketch – or have a go at making a collage relating to a writing project. Collecting images and using sketchbooks and scrapbooks can act as a reminder that we don't always have to start our writing with words – sometimes pictures can be just as useful for sparking off a story!
The latest book in The Sinclair's Mysteries, The Midnight Peacock, is now available to buy.