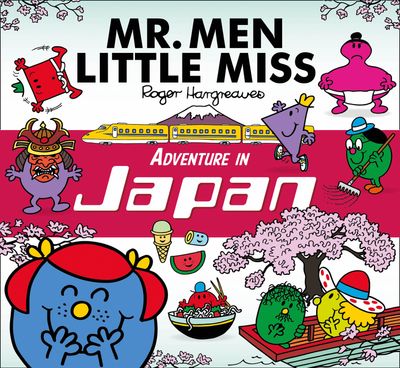 Mr. Men Little Miss Adventure in Japan
The Mr Men and Little Miss have travelled to the awe-inspiring country of Japan!
Little Miss Giggles is visiting Japan with her friends and she can hardly contain her excitement. There is as much 'kawaii' cuteness as she could ever hope for, but there's something for all her friends to enjoy, from the beautiful cherry blossom Little Miss Splendid admires to the world's fastest train much praised by Mr Rush and the ancient shrines Little Miss Naughty has such fun visiting! But which Mr Men or Little Miss will the Japanese love most of all?
The Mr Men and Little Miss Adventures take Roger Hargreaves' beloved characters on amazing trips to other worlds and different times where they have all kinds of funny and exciting escapades.
The books are a new larger format, so that you can enjoy their inimitable stories in even greater scale. Bold illustrations and funny stories make Mr Men and Little Miss the perfect story time experience for children aged two and up.