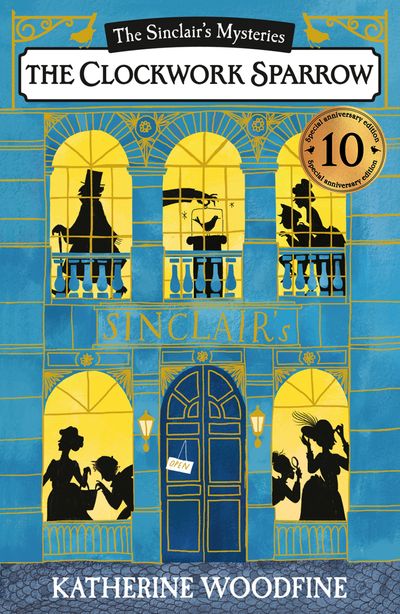 The Clockwork Sparrow
Katherine Woodfine's bestselling debut novel. A fast-paced historical mystery adventure for readers aged 9+, with gorgeous Edwardian period detail. Perfect for fans of Enid Blyton, Chris Riddell's Goth Girl and Robin Stevens' Murder Most Unladylike series.
You are cordially invited to attend the Grand Opening of Sinclair's department store!
Enter a world of bonbons, hats, perfumes and MYSTERIES around every corner. WONDER at the daring theft of the priceless CLOCKWORK SPARROW! TREMBLE as the most DASTARDLY criminals in London enact their wicked plans! GASP as our bold heroines, Miss Sophie Taylor and Miss Lilian Rose, CRACK CODES, DEVOUR ICED BUNS and vow to bring the villains to justice… 
*** 
Cover and interior illustrations by Júlia Sardà
'A wonderful book, with a glorious heroine and a true spirit of adventure' – Katherine Rundell, award-winning author of Rooftoppers
Katie, age 10 for lovereading4kids.co.uk – 'A brilliant historical detective novel – I read it in one sitting and couldn't put it down! The characters were really believable and the story was so exciting. My new favourite!'
Celeste, age 13 for lovereading4kids.co.uk – 'An incredible read full of mystery, wonder and adventure…This is now one of my top ten.'