The Painted Dragon
(The Sinclair's Mysteries)
By Katherine Woodfine
A fast-paced historical mystery adventure for readers aged 9+, with gorgeous Edwardian period detail. Perfect for fans of Chris Riddell's Goth Girl series, Enid Blyton and Robin Stevens's Murder Most Unladylike series.
When a priceless painting is stolen, our dauntless heroines Sophie and Lil find themselves faced with forgery, trickery and deceit on all sides!
Be amazed as the brave duo pit their wits against this perilous puzzle! Marvel at their cunning plan to unmask the villain and prove themselves detectives to be reckoned with – no matter what dangers lie ahead …
 It's their most perilous adventure yet!
******
Praise for The Mystery of the Clockwork Sparrow:
'A wonderful book, with a glorious heroine and a true sprit of adventure' – Katherine Rundell, author of Rooftoppers
'A real page-turner, it has murders, spies and gangs of thieves. Thrilling!' – Indiana, aged 10, LoveReadingforKids reviewer
'Dastardliness on a big scale is uncovered in this well-plotted, evocative novel' – Nicolette Jones, The Sunday Times
'It's a dashing plot, an atmospheric setting and an extensive and imaginative cast. Katherine Woodfine handles it all with aplomb' – Julia Eccleshare, Guardian
'An incredible read full of mystery, wonder and adventure…This is now one of my top ten.' – Celeste, age 13, LoveReading4Kids reviewer
The Mystery of the Painted Dragon is the third book in the Sinclair Mysteries quartet. The other two books are the bestselling The Mystery of the Clockwork Sparrow and The Mystery of the Jewelled Moth.
Katherine Woodfine is a true champion of children's literature. Until 2015 she was Arts Project Manager for Booktrust, where she project-managed the Children's Laureateship and YALC, the UK's first Young Adult Literature Convention, curated by Malorie Blackman.
She is  part of the founding team at Down the Rabbit Hole, a monthly show for Resonance FM discussing children's literature.
Katherine blogs at followtheyellow.co.uk. She lives in London.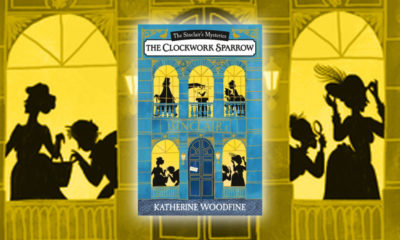 When I started writing The Clockwork Sparrow, the first book in the Sinclair's Mysteries series, I knew that the London location was going to be hugely important to the story. I wanted to take inspiration from my own experiences of living in London, as well as the real history…
Read More