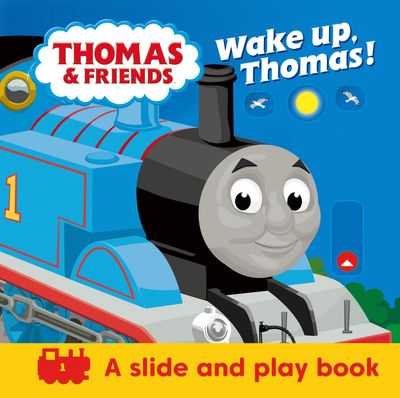 Thomas & Friends: Wake up, Thomas!
(A Slide & Play Book)
Pull the tabs to wake up Thomas the Tank Engine in this novelty pull tab board book!
In this fun, interactive board book, Thomas the Tank Engine and his friends have a busy day working on the Island of Sodor. What will they see as they travel around? Where will they go? Pull the tabs to find out!
This board format is perfect for little hands, with sturdy pull tabs that young Thomas fans will love moving from side to side or up and down to see what they reveal.
The Thomas & Friends Wake Up, Thomas Slide and Play Book features colourful detailed images, so there are lots of things for children to look for in the pictures and to talk about in this fun tabbed board book that's perfect for 2-4 year olds.
A great book for train and transport loving young children.
It provides interactive fun, so young children can really get involved by moving the pull tabs and seeing how the pictures change.