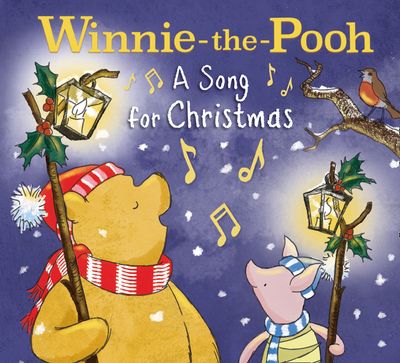 Winnie-the-Pooh: a Song for Christmas
Winnie-the-Pooh: A Song for Christmas is a perfect festive gift!
In this gentle tale perfect for wintery days, as the snow falls pitter patter down on the Hundred Acre Wood, Winnie-the-Pooh and his friends join together to sing their very own Song for Christmas. In the story, Pooh and Piglet wrap up warm and struggle through the snow to share the song with their friends. By the time they reach Christopher Robin, who's ready and waiting with a lovely selection of festive treats to eat, the combination of their different singing voices and an interesting selection of percussion instruments enables them to perform the perfect Song for Christmas!
This heart-warming story with beautiful illustrations full of festive touches will have readers thinking about their own Christmas traditions. Its pocket size and shiny foiled cover makes it a great stocking-filler present and it's a lovely story to share with children of all ages in the cold winter months.
Also look out for more Winnie-the-Pooh stories:
A Pudding for Christmas – ISBN 9781405294621
A Tree for Christmas – ISBN 9781505286633
The Long Winter's Sleep – ISBN 9781405294591
The Great Heffalump Hunt – ISBN 9781405278300